Malaysian palm oil giant in fight with forest people gets rebuke from RSPO
6 April 2011
Science News
Malaysian palm oil giant in fight with forest people gets rebuke from RSPO
A Malaysian palm oil company facing criticism for a land dispute with forest people in Borneo has been suspended from the Roundtable on Sustainable Palm Oil (RSPO), an eco-certification body.

RSPO said IOI Corp breached "two core membership mandates and obligations" on land conflict and conversion of high conservation forest into oil palm plantations. IOI Corp will have 28 days to deliver a proposal to resolve the outstanding issues. Should it fail to do so by May 2, 2011, RSPO told IOI it will consider "further sanctions against your company, which may include the suspension of your license for new transactions involving Certified Sustainable Palm Oil materials including GreenPalm certificates."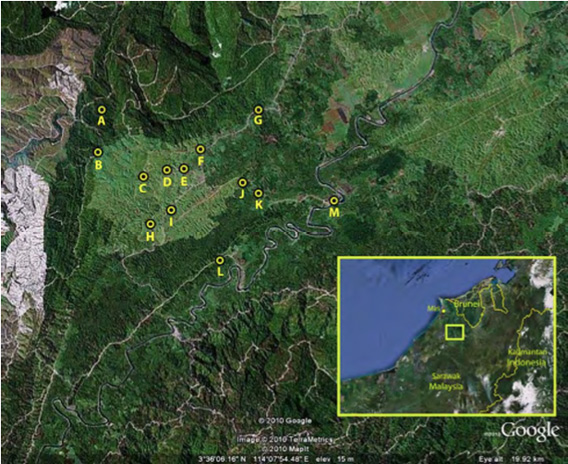 Location map showing key areas visited during field study by the NGO Grassroots (from Case study of IOI Pelita Plantations operations and practices, and its impact upon the community of Long Teran Kanan, Tinjar, Baram, Sarawak, Malaysia): A) IOI workers' housing B) View of recent land clearing activities by IOI C) IOI's agrochemical storage and mixing area D) Sungai Tegai E) IOI's waste dumping area F) IOI Tegai Estate entrance / IOI cuts off community farmer's access to farm G) Community water intake point / Community water catchment area / Community farmer Malang Jok's land H) IOI workers' illegal burial grounds I) IOI promises assistance with road repairs J) View of IOI's oil palms on community land K) Gas pipeline project L) IOI Tegai Estate office M) Kampung Long Teran Kanan
Such a move could cost IOI dearly in the marketplace. In 2009 and 2010, PT Sinar Mas Agro Resources and Technology (PT SMART), an Indonesian subsidiary of Golden Agri Resources, lost a number of major customers after it was found to be clearing carbon-dense peatlands and rainforests in Indonesian Borneo. Unilever, Kraft, and Nestle were among the companies that abandoned PT SMART, which has since announced a strict forest policy for new plantations.
The rebuke from RSPO comes just days after the Rainforest Action Network (RAN) highlighted the struggle between the people of Long Teran Kenan and IOI over two plantations on native lands in Baram, Sarawak in Malaysian Borneo. Last month the community seized the contested plantations after the palm oil giant failed to respect the terms of a court ruling that the plantations were established on native customary land.
According to the San Francisco-based activist group, the action came after months of inaction by IOI, following the March 2010 court decision that two concessions held by the palm oil company were planted on community lands. Despite the ruling, IOI continued to operate its plantations. It also broke its commitment not to appeal the court decision, according to RAN. So last month, the people of Long Teran Kenan blocked the road and occupied the plantation. They have since started harvesting and selling the fruit to a nearby palm oil mill.
RAN is campaigning around the situation because IOI supplies palm oil to Cargill, America's largest palm oil importer. RAN says Cargill has failed to enact policies that protect against such abuses.
Cargill did not respond to request for comment from mongabay.com, but in the past the agroindustrial giant has stood behind its suppliers.
In an emailed statement, IOI called the community's actions "illegal" and said the natives' customary rights on the land "can be extinguished by paying compensation."
But Linsey Allen, RAN's Forest Program Director, told mongabay.com IOI's response reflected its "lack of commitment to respectful engagement with people of Long Teran Kenan."
"Rainforest Action Network disputes IOI's accusation that the native customary landholders are 'illegal' and will continue to stand in solidarity with the community of Long Teran in its fight to reclaim ancestral lands from one of the most powerful palm oil companies if the world," she said.